Just BASIC Programming
Just BASIC Programming >> JB Programs Shared >> Pigeon Breeders Records
http://justbasic.conforums.com/index.cgi?board=shared&action=display&num=1465138573

---
Pigeon Breeders Records
Post by stumpy on Jun 5th, 2016, 09:56am

As an extension to the first effort, 'Breeding Records', which is for a record of stock pigeons and their families to help with selecting them in pairs, this one is to keep track of the current season's nesting success and young bird performance etc.

Again I expect that I will be the only user
so it is for my own set up and loft arrangements, but it could certainly be customised for use by others. Therefore testing, possibly to permit addition to the JustBasic Program collection, of this program would also be much appreciated.

"Breeders Auto Cards and Youngster Records"

Stock Pairs can be adopted from data saved by 'Pairs and Pedigrees' and the details: Laid> Hatched> Ring Numbers etc. can be added to 'Nest Cards', with identifying numbers and colours for each of 13 Pairs.

In the lower 'Nest Card' panel of the display the program overwrites certain details in sequence, with dates drawn from PC, and eventually one of two sets of rings (unique pigeon club ring numbers) can be chosen, again automatically to overwrite the last string to be added in the sequence.

For each card, there are 24 'slots' for the records of individual youngsters from the same pair in a season. Initially each slots starts with ". " This is because, when a pair has been selected in the upper 'Pairs' panel, upon pressing the respective '*overwrite' button, its slots are tested in turn by the program, to determine the position for the next overwriting string: first '*Laid' then '*Hatched', then the next available '*Ring' from the 'Ring Set' in use, together with the date which is current when the text is to be overwritten. There is also an 'Undo' button.

Individual Card slots can be manually edited after double clicking, when any cleared slots may be left with ". " as the first character, if recognition by the program should be required for overwriting with the first sequence-string "Laid". Otherwise four spaces are appended just to keep the text clear of the vertical slider bars of the preceding card, but in any case button 'deselect all' does hide the bars. In this way text can be added or edited to record the progress or outcome for each youngster from a particular nest in a season.

There are reminder notices and once one of the two 'Ring Sets' has actually run out, if something goes wrong (!), or if rings get lost, the Year, First, Last, and Next ring numbers can be 'Cleared' (blank display) 'Recalled' (the set shown before blank was applied), or 'Saved' (confirmed as the operative numbers) by pressing the respective buttons. In this way the sets of ring numbers can be updated or modified without affecting the existing text in the nest cards.

Some data has been included for testing but there is empty space on either side, possibly to allow for photos.

edited 10.8.2016: removed outdated links, but 'Print PDF' is now implemented.
---
Re:2nd effort: Pairs & Youngsters 1920 x 1080
Post by stumpy on Aug 10th, 2016, 03:44am

Edited 23.8.2016

Apologies for the defunct links

In the upper Panel, the pairs can added/edited by double clicking the text boxes (or by adopting pairs from data produced by the 'first effort'now called Pairs Records).
In the lower panels, under the coloured Pair headings, textboxes eventually start with an auto ring number and date for each youngster, but each line of the following text can be displayed across the whole page by double clicking the box, to edit or add details and development to the extent required.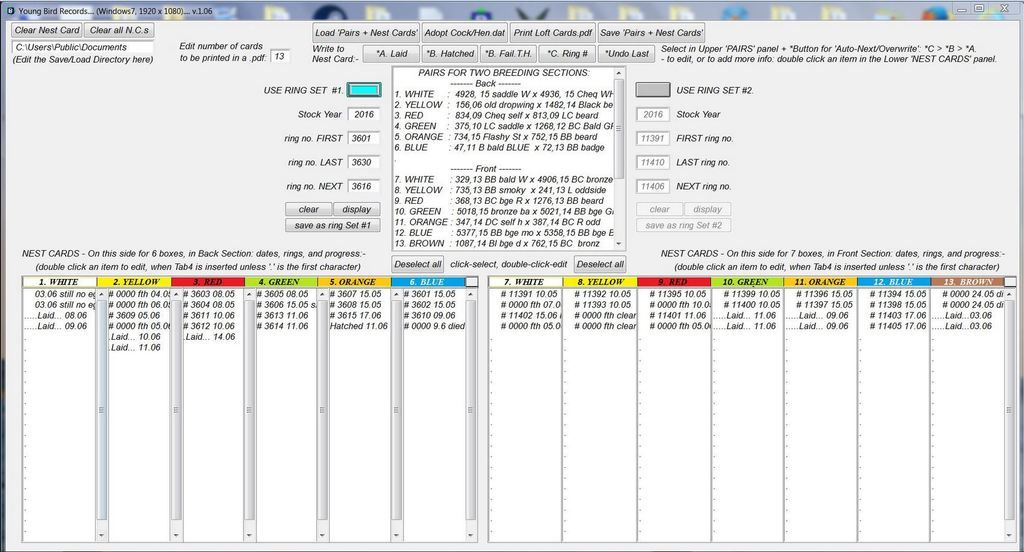 ---
Pairs & Youngsters 1366 x 768
Post by stumpy on Oct 8th, 2016, 05:06am

v2.56 zip for Breeders Records for screens 1366x768

Works with 1920x1080 but needs minor modifications to bmp's and layout for that display size.

Updated below.
---
Pigeon Breeders Records
Post by stumpy on Nov 14th, 2016, 5:47pm

For 1920x1080 or 1366x768

Another change of title, and 'click' sound associated with a few more entries:-

Updated 025.04.2017
https://www.filesanywhere.com/fs/v.aspx?v=8b716b8b5d6371ae9ca5

---
Website: Pigeon Breeders Records
Post by stumpy on Apr 27th, 2017, 04:07am

(edit: Earlier, 'Pairs' and 'Youngsters' were combined into 'Pigeon Breeders Records') More recent changes:-

03.05.2017 Updated v.2.77 with display and starting screen settings, and feed/fly/medication planners/counters linked to flying teams.
04.05.2017 Textboxes for input reconfigured
05.05.2017 'saveTxt' and 'loadTxt' buttons fixed (they treated Plan1,2,3,4 just as if they were Team1,2,3,4)
06.05.2017 'divider', 'empty', and 'unused' added to youngster edit buttons
14.05.2017 v2.90 with new features: incl. Foster Pairs with pedigree links, stock and offspring searches.
16.05.2017 Graphic boxes now also show current birds/fostered eggs origin in Young Section
18.05.2017 Updated: Bug corrected in Stock Section 'Search'
21.05.2017 Cosmetic changes to results of 'Offspring' and '----'

Web pages with a link to the latest version:-
https://chavers.wixsite.com/free-pigeon-records
---
Re: Pigeon Breeders Records
Post by stumpy on May 22nd, 2017, 03:39am

website has been fixed

22.05.2017: bug fix in Stock Section: 'Pick Parents'
31.05.2017: fixed the possibility to cause a crash by rapidly double-clicking an entry in the nest cards. Single click was intended only, to bring up a 'modal' editing window. The code does a bit of meandering before the window appears, allowing a period in which the second of any two quick clicks could have been problematic.
03.06.2017: Offspring function corrected.
06.06.2017 Functions revised in Stock Section.
10.06.2017 In Young Section: the pair highlight and nest indicator remain on screen together, and the entry in a nest card remains highlighted while its editing box is displayed.
---
Re: Pigeon Breeders Records
Post by stumpy on Jun 19th, 2017, 5:30pm

19.06.2017 - Version 3.0 includes the facility to use native 1280 x 800 screens, mainly for 10" tablets & Win10 e.g. Linx 1020

https://chavers.wixsite.com/free-pigeon-records
---
Re: Pigeon Breeders Records
Post by HACKER on Jun 20th, 2017, 08:32am

I Never knew Pigeon Breeding had such an interest


Frogs & Toads will be next
---
Re: Pigeon Breeders Records
Post by stumpy on Jun 20th, 2017, 11:14am

Yes and I believe newts also have quite a following!

The amount of interest here is indeed surprising but guess that it is just to do with somehow getting a computer to do a particular set of things, apart from email and google that is....and that it's not actually from real live pigeon fanciers
who don't usually much like computers.
---
Re: Pigeon Breeders Records
Post by HACKER on Jun 20th, 2017, 4:31pm

Em! How about Greyhound racing ?
---
Re: Pigeon Breeders Records
Post by tooanalytical on Jun 20th, 2017, 6:26pm

on Jun 20th, 2017, 4:31pm, HACKER wrote:
It could happen.

Pigeon's are of interest for enthusiasts of breeding "racing" or homing pigeons. From that interest,.... computerization.
---
Re: Pigeon Breeders Records
Post by HACKER on Jun 21st, 2017, 03:21am

http://www.greyhound-data.com

http://www.trackinfo.com/dog-search.jsp

http://www.greyhoundpredictor.com/links.html



Hacker.


---
Re: Pigeon Breeders Records
Post by stumpy on Jul 1st, 2017, 5:53pm

01.07.2017
Included, a shortcut to standalone which uses Win10's 150% text setting for the screen option 1920x1080 (on e.g. Dell Venue 11"), or 1366x768, or 1280x800 displays
- and another shortcut to provide the alternative set of options: 1920x1080(at 100%), 1366x768, 1280x800 displays.

06.07.2017
More space allowed in the (1920x1080 at 150%) textboxes for the Auto. Ring Number settings.

07.07.2017
- The Young Section's Ring Set No. and Team No. which are current, can be saved for the next startup, and through an invitation to save when switching to another screen from the Young Section.

09.07.2017
Version 3.1 Revised last update: corrected file 'Pairs_and_YoungBirdRings.dat' in package.

12.07.2017 back to Version 3.0 ( no 4th screen option but v3.2 is in development and will again include 1920 at 100% ).

12.07.2017 Version 3.2: Four screen sizes maintained, remembers more settings and tidied up.

15.07 Version 3.21: fixed bug in load young from edited (non-default) path.

29.07.2017 Version 3.23: fixed bug if 'non-default' dir. is used to "Adopt Pair data"

04.08.2017 Version 3.24: revised to deselect photos in young section for 'Adopt Pair data' and 'Load Nest+Pair data'.

10.08.2017 (version 3.24 update1): apart from the new '.tkn', the replacement/new files "bowl1920 (.bmp)" and "bowl1921
(.bmp)", in folder "bmp1920", are also required.

15.08.2017 (version 3.24 update2): in Young Birds: photo titles 'Father' and 'Mother' changed to 'Cock' and 'Hen', and
' ~ no nest is selected ~ ' is displayed in photo titles upon starting YB, or upon loading data, or upon de-selecting nests.
: In Stock Birds: when adding cock/hen by pasting details with a PR (parent ref) from YB or FT, or entering them into an existing slot, the pedigree of the new entry is shown at once, rather than requiring its re-selection before the pedigree is displayed.

17.08.2017 (version 3.24 update3): In Stock Birds: revised code and screen messages for 'Pick Parents'.

18.08.2017 (version 3.24 update4) : Bugs fixed in the code which had been revised in update 3,
and in Stock: 'cancel' button in 'add cock'/'add hen'.

22.08.207 Version 3.30: Enhanced functions in 'Foster Pair Ops'. ('bull cock' records were already feasible).

11.09.2017 Version 3.31: Bug fixed in half-sibs, and Added buttons 'load alternative', 'save alternative', and text box for quick switching between the nest card records for the previous year and the current year.

12.10.2017 Version 3.32: Added Pairs Printout in the Stock section: The option to save a pdf list of the defined number of pairs, showing the parents of each stock bird but with less space between the pairs.

24.10.2017 (version 3.32 update1): In Stock Birds: revised pop ups for, and function of, divider/erase ('-----') button.
Apart from new .tkn and .bas files, a replacement folder "guides" is included.

https://chavers.wixsite.com/free-pigeon-records
---
Re: Pigeon Breeders Records
Post by stumpy on Dec 13th, 2017, 4:33pm

13.12.2017 Version 3.32, update2.

In both sections:
Revised pop ups and error trapping for saving sets of data, which can now be done anywhere on the drive.

Revised overview on the website.

Apart from new .tkn and .bas files, a replacement folder "guides" is included.

https://chavers.wixsite.com/free-pigeon-records
---